Order Letters of Recommendations for Nurses With All Needed Info
A letter of recommendation for nursing student is a formal document that you must submit if you are looking for a nursing position. Sometimes, a student may be demanded to submit a recommendation in order to be accepted into an undergraduate nursing school. What is the content of this letter?
It should contain info about the student's qualifications, qualities, and other credentials. This doc may be written by a teacher or a professional in the medical field for a student to enter a specific program. Many students have too many questions about recommendations, so they prefer writing services instead.
What is the proper structure if a student composes letters of recommendations for nurses? Although there are no precise requirements for this text, it is critical to remember that it is a formal document, which means it must be written in the right and formal structure of a business letter.
To whom should a student address this document? When applying for a certain program, a student must study all of the guidelines and specifics regarding the unique prerequisites or use a reliable writing site.
Custom Letter of Recommendation Nursing School Applicants Require
When working on letters of recommendation for nursing school, a student may be required to give the recipient's name in some circumstances. However, if it isn't available, students usually use another formal salutation, such as "Dear sir/madam."
What exact data and information do a student need to include? It should not be overly long in a recommendation. A student should be able to include pertinent information that allows the reader to learn about their qualifications, accomplishments, and success.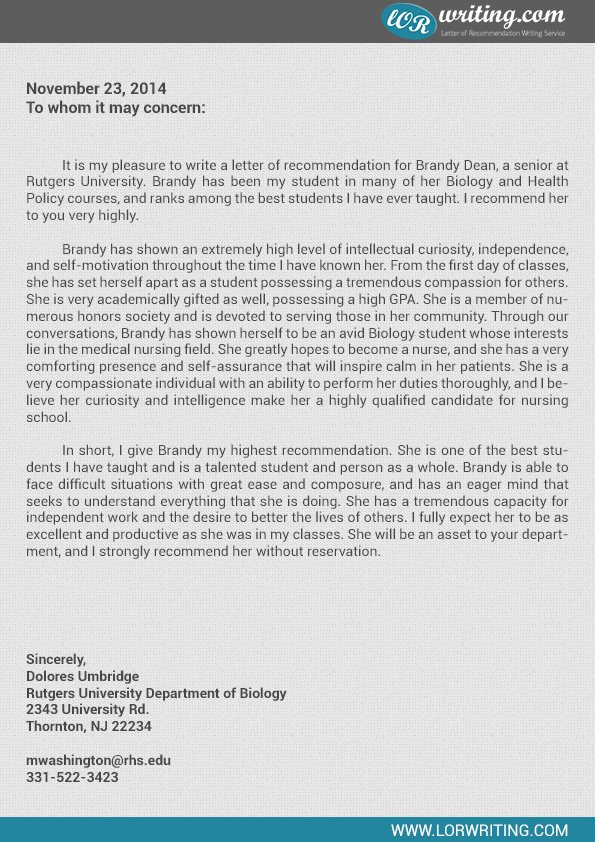 Is a student allowed to be inventive? As much as you want to add a personal touch or write your letters of recommendation for nurses uniquely, you don't want to go overboard. It's significant to remember that this is still a formal document. In the end, students simply describe their desire to participate in the program and their motivation. Show that you are a viable candidate by being considerate.
Alternatively, students order our writing assistance, which is provided by degree-holding experts.