Being a lawyer is one of the toughest professions. For one, you do not just need an undergraduate degree. You will have to get into a reputable law school and then take the bar to become a full pledge lawyer. As things become more legal, there is an increasing demand for lawyers which also means that applying for a law school gets more and more competitive. The best law schools only want the best and the brightest students.
When you look at the application requirements and procedures, you will realize how strict they are. One of the requirements that they will need is a law school recommendation letter. When you compare law school letter of recommendation sample, you can easily see how a well-written a letter of recommendation is made. This particular document goes beyond just being a mere applicant document. In fact, this is your ticket to get into the program. In a sample law school recommendation letter, you can see how the professors and reputable individuals would give the highest recommendation to a student.


Pay 20% less for your letter!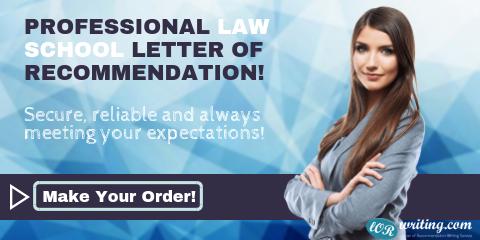 Common Law School Requirements
Undergraduate Degree from a US-Accredited University or College: Complete your college degree prior to the first term of law school. Many pre-law applicants take degrees in English, political science or international studies.
GPA: It is important to have a high GPA score for many schools. They require at least 3.6 or higher. Do well in your undergraduate and increase your chance to be accepted in a law school.
Law School Admission Test: The LSAT is an important standardized test requirement if you want to get into law school. Low scorers must re-take it if possible. You can do it in October or November during your senior year's fall semester.
Letters of Recommendation: LoRs must accompany your application. Form good relationships with your professors or work for him or her as an assistant so that he/she can assess your talents and skills. It can be done along with a coursework he/she requires for the class.
Personal Statement: It's one of the main weapons to apply for a law school. Put your best foot forward in writing by highlighting your achievements and listing down the reasons that you're applying for the law school.
Law School Letter of Recommendation Sample
If there's one thing that characterizes law school LoR it's pressure, whether you need one for yourself or someone asked you to write one, someone's chances at a job and their career can be greatly affected by the letter, and you need to make sure that you come up with the absolute best. However, this often is a lot easier said than done. You don't have much space to work with in – law recommendation letter of recommendation letter for university, and you have a good deal to communicate, so you need to make sure you get the most out of each word. Accomplishing this is very tough, but that's where a law school letter of recommendation example can be helpful.
Tips for Writing a Strong Law School LoR
Here are some valuable tips that you can follow when writing a winning law school letter of recommendation:
One of the very first things that you have to keep in mind is the structure and format of your law school LoR. This is a formal letter which means that there is a specific format that you need to follow.
The details of the recipient should be included at the very top of the letter. These should include the date when the letter was written, name of the recipient, and address.
In the opening paragraph, the person giving the recommendation should state the purpose of the letter. Additional comments where you express your motivation and enthusiasm in what you are applying for can actually help. It is also in this paragraph where it is important to provide details as to how you have come to know the applicant. You may want to include observations.
In the second paragraph of the letter, you will have to provide more details. This is the part of the letter where you need to show how well you know the applicant. Keep in mind that a letter of recommendation is not just about the academic credentials or capacity of the person. It also includes other dimensions. You may also want to site numerical comparisons with others.
In the third paragraph, you may want to highlight the strengths of the applicant and mention about the weaknesses.
For the last part, you should give your highest recommendation and give your content information.
There should be a signature block where the person giving the recommendation should have his or her name signed at the very end of the paper.
Professional Sample Letter of Recommendation for Law School
Oftentimes the toughest part of writing a document is simply getting started and mastering the basics, and the law school letter of recommendation is no exception to this. You're often up against the best students to get into law school, and that means that you need the best letter of recommendation, and a professionally written law school letter of recommendation sample can help you accomplish just that.
Just study the law school LoR sample and see how the writer goes about crafting it, being persuasive and informative, and then apply what you've learned to your own work. If you have a subpar law school letter of recommendation sample it can be disastrous and you can learn the wrong things, but if you go with our service and professionally written sample law school letter of recommendation you can make the whole process that much easier, and your letter that much better!
Take Advantage of a Professional Law School Letter of Recommendation Sample
Getting into your choice of law school is competitive. Having the best law school letter of recommendation can play a huge role in helping you get into the school of your choice, so if you want an easy way to get the most out of your letter and to learn how to do it the right way take advantage of a law school letter of recommendation sample from one of our professional today!
Why us

Using appropriate personal info
To get your LoR personalized, add specific details of your candidacy and attach the questionnaire.

Direct communication with the writer
You will have a secret chat with your personal author that will instantly be deleted once your cooperation is done.

Expertise in creating admission docs
We know what the admission officers expect and how to impress them. 88% of our clients were accepted.

Unlimited revisions if necessary
After we're done working on your text, you will get costless & unlimited revisions for 14 days.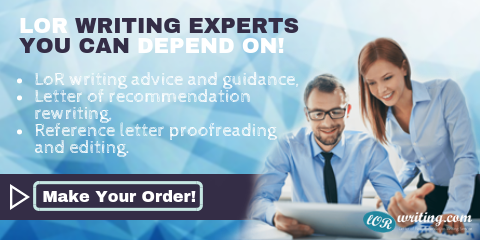 Our team can help you in so many ways that you can think of. Here are some of the main benefits that you can get:
Professional and quality writing: Our team only has the best and most skilled writers. Rest assured that you have quality content.
On-time delivery: Ever experienced when you have to wait for the draft only to end up being disappointed by late submission. We are always on time and in fact, we always strive to submit ahead of the deadline.
Reliable customer service support: We want our clients to be completely satisfied with our writing and editing services. So we make sure that the whole process is seamless.
Use our well-written law school letter of recommendation sample for your inspiration or as a point to start!