A letter of recommendations, as well as other application documents, is one of the most important and necessary requirements when it comes to aspiring college students and professionals to send their applications. This document can give a lot of help to the process of admission or selection of candidates due to the importance previous professional acquaintances can give to the abilities and professionalism of a person. However, not everyone knows how to make a letter of recommendation.
That's why we will make sure that you learn how to make one in order to create a format you can use to write your letter of recommendations or to send your desired acquaintances so they can create the perfect letter of recommendation for you depending on your desires. Remember that admission officers actually put a lot of weight to recommendation letters due to the great importance they have on validating the experience and past of an applicant for a college or job position. According to William Fitzsimmons, a Harvard dean of admissions, letters of recommendation are "extremely important", as they offer a lot of insight on the lives of future students.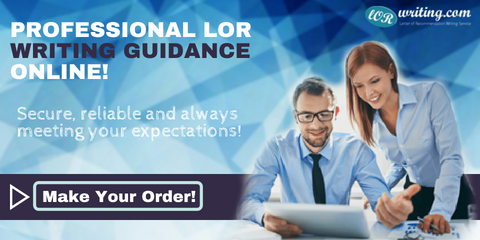 LoR Format Suggestions
LoR format is always a little confusion or little trouble for students while applying for academic needs as admission or scholarship. These recommendation letters should be in right format in order to trust them well by the selection committee. Very often these recommendation letters in the wrong format or with irrelevant content in it can result in huge damage for your profile in many ways making your admission or acceptance difficult for you too.
It is highly imperative here for your recommendation letter to be in right format with positive recommendations on your candidature. Such LoR can result into a great help for your candidature and helps a lot in securing admission or scholarship for you too.
Make sure to work with a real professional in the field: get the best LoR writing advice and guidance, rewriting and editing assistance!
Letter of Recommendation Format Pre-Requisites
Letter of recommendation format is not always the same and it will be developed based on the exact necessity. For example, a job recommendation letter format will be totally different from the college application recommendation letter writing. Here, each recommendation letter including a letter of recommendation for dental school is successfully associated with a set of guidelines and format specifications successfully. You should understand these pre-requisites first before proceeding with your letter writing task. It is always good here to seek some help or service online from the experts or otherwise consider having some samples as a reference too.
Some of the regular formats those are currently popular are mentioned below for you:
Letter of recommendation PDF, which is initially developed through MS Word, but saved as PDF format.
Letter of recommendation doc format, which is created in MS Word.
Letter of recommendation RTF, which is created through MS Word but saved as RTF format.
Sample LoR
To Whom It May Concern
It is utmost pleasure to Recommend My Student —————-, that was my student for more than 4 years and my teaching with this student created clear understanding of his caliber and strengths at academic fronts. He has been the best student always in my class and with other subject classes too. I always feel special with this student due to the kind of zeal in him towards learning new things and the way keeps up his efforts to excel well with studies.
Learning new things in the classroom is always a true passion for this student besides having the ability to grasp things quicker too. As a math teacher for this student, I often witnessed his exceptional logical approach in solving troublesome problems very easily too. He won many competitions in my schools such as debates, essay competitions, besides our high school conducting every year math competitions too.
I definitely recommend this student for the early admission to your college and he will definitely add as a best one for your class too. You can contact me any time through below mentioned details about this student and I would be happy to be of help.
Sincerely,
Alfred——–
Mathematics Department Head
St……….High School
123 ——-street
Ph. (999)-999-9999
Alfred@Xschool.edu
LoR Writing Guidance Online
LoR or letter of recommendation writing is definitely an important task while seeking something like job or college admission and business association or something. This LoR with a good format and good content in it can create and initiate best environment for you to acquire the desired results successfully. Importantly, writing LoR is one kind of task besides following the right format for it. Each requirement got its own set of specifications and guidelines here to follow without fail. It is always good to check associated guidelines in it. For example, when you're applying for academic admission, then a professional letter of recommendation format guidelines will be mentioned in the application guidelines successfully.
Check out the best letter of recommendation humor, as well as some interesting tips to know about writing your LoR!
LoR Writing in Suitable Format
Letter of recommendation format decision should always be the first decision before proceeding with the task of writing. It is always wise to check for samples online for this purpose. Avail some of these samples from the best places online based on your requirement. If this letter is for academic needs, then avail some sample LoRs related to college admission or university admission or something. Similarly, if this is the business association, then check for some professional business LoR samples online to stand as a reference for you. Read and understand these samples in detail in order to find out the required useful essence from them. Also, find out the way the letter has taken shape with a specific format like addressing, content and closing of a letter. Follow all these aspects in the further better way for your requirement recommendation letter. This kind of approach can result in good results for you besides making you more proficient with recommendation letters writing tasks. Online info is always wise to help here too.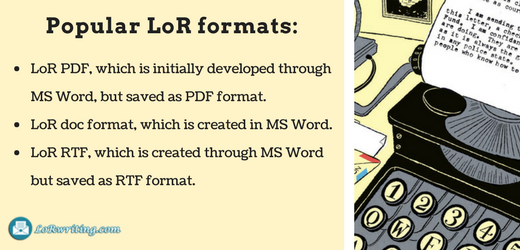 Professional letter of recommendation format that is for business needs should be perfect without fail as professionalism will be judged always through this LoR and LoR format. This is a pure professional task and demands perfection from all aspects of the letter without fail. You should seek professional help in this regard online in order to keep up your business tasks success at paramount positive level. Business recommendation letter format and its effective creation are available as service with us always beside helping professionals with our sample too. You can check our sample mentioned below and you can use it as a reference to write your LoR on own too.
College Recommendation letter Format and Content Details
College recommendation letter format can be found and understood very easily with the above-given sample for you. This is a sample and you can get this content further improved for your requirement, but not copy anything from it. Your academic recommendation letter format and its content will be verified very strictly by the selection committee always. You can follow the above sample for the scholarship recommendation letter format too. Our sample is just to create an idea about the correct LoR and use this as a reference or reach our team to help you with LoR writing and get this letter or letter of recommendation for pharmacy school for you through our online service too.
Tips on How to Make Letter of Recommendation
Making a letter of recommendation has two main purposes, giving an insight into the lives of applicants for a job position or college program and reveal the special skills and abilities of the same applicants according to teachers, professors, colleagues, past co-workers, employers, and so on. This offers the best support to applications, giving the perfect help to admission committees to accept the proper applicant.
In order to help you in the process, we've compiled a list of tips you can use to create your own letter of recommendation easily. You can use this to develop a letter of recommendation for yourself when someone asks you for a letter of recommendation or to work as a format for other people to make a letter of recommendation for you.
Follow these tips and make sure your letter of recommendation MBA is of the highest quality possible:
Take into account the experience and skills
---
One of the first things to take into account when making a letter of recommendations is the experience and the skills of the person. When you write a letter of recommendation you need to make sure that the experience and abilities of the person you're writing for are correctly portrayed. This gives more insight to the admission committee about the applicant.
Talk about enthusiasm and drive of the person
---
Remember to always mention the enthusiasm of a person when it comes to the field of work or the field of study. This can add a lot to the letter of recommendation, as admission committees are always looking for those students who actually like what they do and what they will do. Mention previous experiences if you can in order to back up your statements.
Compare with other people
---
Make sound a little depreciating for other students or co-workers, but when you compare a student or worker with others in a positive way, you're immediately making the admission committee or the future employer know that the person is actually good. Make sure to give true statements and support them with verifiable information.
Mention any additional or special skills
---
Creativity, leadership, commitment, integrity, motivation, great knowledge and manage on foreign languages, wonderful negotiating skills or whatever adds to the person you're writing a letter of recommendation for, it will be of great importance. These will help in a great way, especially if they are specific. The more skills you add the better. It is recommended to back these statements with experiences.
Don't mention personal matters
---
If you're writing a letter of recommendation or you want to send it as a format for any of your contact referees, you need to make sure that the age, sex, original, religious belief, disability or any other unimportant detail is mentioned. These are always unnecessary and can eventually harm the letter of recommendation or even the complete application and admission.
Discuss with the candidate or with your contact
---
Whether you are the one needing a letter or recommendation or the one writing the letter of recommendation, it is important that you discuss what you want to be portrayed about you or about the other person. This will make it easier to eventually make the process of writing easier and develop a wonderful letter of recommendation.
Always support your statements
---
If you are writing a letter of recommendation, it is important to take into account that every one of your statements should always be supported by any story or verifiable data. The readers of the letter of recommendation are always making sure that everything that is said on the letter is verifiable and that it looks true.
You can also visit the UCF College Tips for Writing Letters of Recommendations and Ithaca College Tips on Writing Letter of Recommendations for more advice and samples on how to make letter of recommendation.
Having Trouble at Making a Letter of Recommendation?
If you don't know how to make a letter of recommendation correctly, you've come to the right place. Not only were you offered the best tips on making a letter of recommendation but you will also be offered the best Letter of Recommendation Writing Service in order to create your letter of recommendation with the help of professionals. By using our services you will be able to create the perfect letter of recommendation that will impress anyone and achieve whatever it's necessary, from admission to job positions without any problems.
Remember that a letter of recommendation is one of the most used requirements in both colleges admissions and companies selection processes. That's why it is always extremely important to know how to make a letter of recommendation correctly. Make sure you follow our guidance and tips in order to develop your own letter of recommendation to the perfection.
If you still need a quality assistance with the correct LoR formats, let us know right now!