Letter of Recommendation Examples
Writing the letter of recommendation is commonly recognized as very difficult, and a lot of people struggle to develop a letter that isn't just adequate but can be effective in truly helping someone get a job and separating them from the masses of other applicants. That's because the letter of recommendation often has a strict set of requirements, and you also have to make sure that it appears genuine and accurate, otherwise, it will likely be discounted by an employer. The hardest part of the letter of recommendation is the most basic, simply figuring out what to say and how to go about presenting it, and that's where a letter of recommendation examples can be very helpful.
Justice Jonsen, M.D.

Children's Hospital of Sundance 1122 Sundance Lane Sundance, PA 55555 Phone: 555-555-5555 E-mail: jjonsen@sundanceCH.org

November 19, 2013

Re: Letter of Recommendation for Dr. Fredrick Rants

Admissions Committee:

It is with great privilege that I write this letter of recommendation for on behalf of Dr. Fredrick Rants for your esteemed Pediatrics Sports Medicine Fellowship program. I had the opportunity to work with and supervise Dr. Rants during his Pediatrics residency at Children's Hospital of Sundance. Dr. Rants showed excellent judgment and a strong working knowledge of this specialty from day one.

After speaking with and getting to know Dr. Rants a little bit more, I learned about his background as a basketball and baseball coach for troubled youth during his college years. He expressed an interest in learning more about Sports Medicine from the very beginning, and he had the opportunity to work on our PM&R and orthopedics floor during his residency at Sundance.

Dr. Rants always demonstrated excellent working knowledge of pediatric medicine, and he has a naturally calming demeanor with both our young patients and their parents. He was always willing to go above and beyond to help anybody who needed it, and our staff loved working with him. Dr. Rants is always punctual and has no problem staying on duty until all the work is done. He is a great teacher, and has worked well with medical students and junior residents.

We had the privilege of offering Dr. Rants the Senior Resident position over the last year, which he filled flawlessly. He showed exemplary time management, organization, and communication skills during each and every shift. In my professional opinion, Dr. Rants will excel in your renowned Pediatric Sports Medicine fellowship program, and I am happy to highly recommend him.

If you have any further questions regarding my work experiences with Dr. Rants, please do not hesitate to contact me via e-mail or telephone.

Regards,

Justice Jonsen, M.D.
Professional Letter of Recommendation Templates
Learning the basics and how to go about completing something is often the most challenging part of writing any document, and the letter of recommendation is no exception. One of the easiest ways to pick up on these basics and to learn how to go about completing it is a letter of recommendation examples. In a high-quality letter of recommendation example you can see all the principles and techniques in action and then see how to apply them to your own work, but this is only possible and effective if the letter of recommendation examples you go with our high quality and reliable enough that you can trust you're getting the right lessons from them. So don't just pull some of Google Images or a random site, get your letter of recommendation examples from our professional service!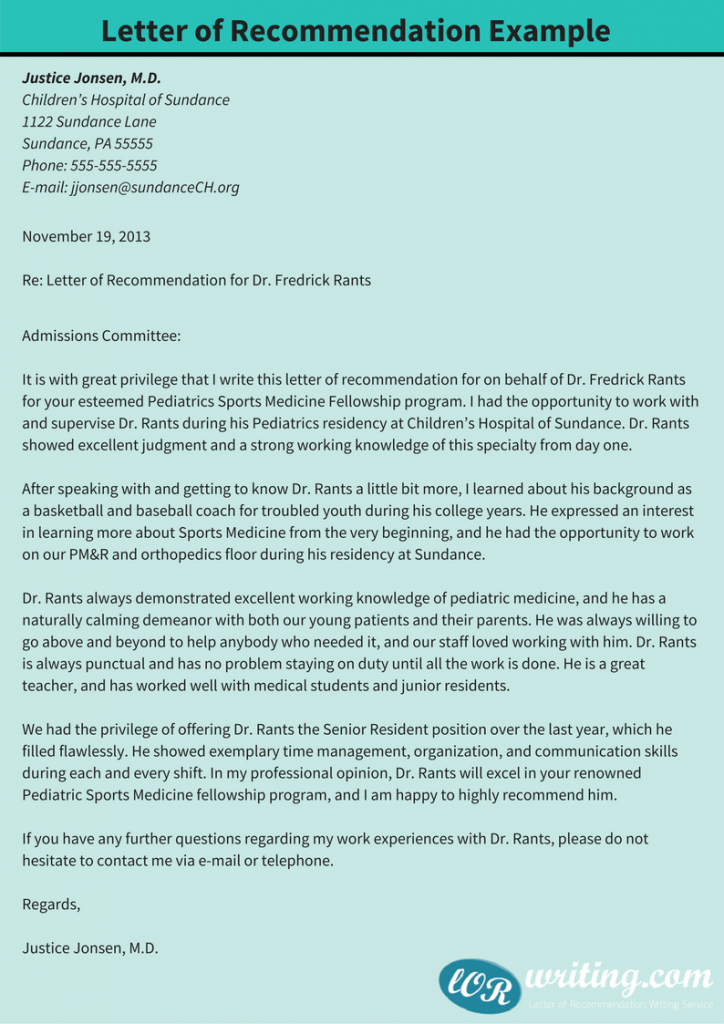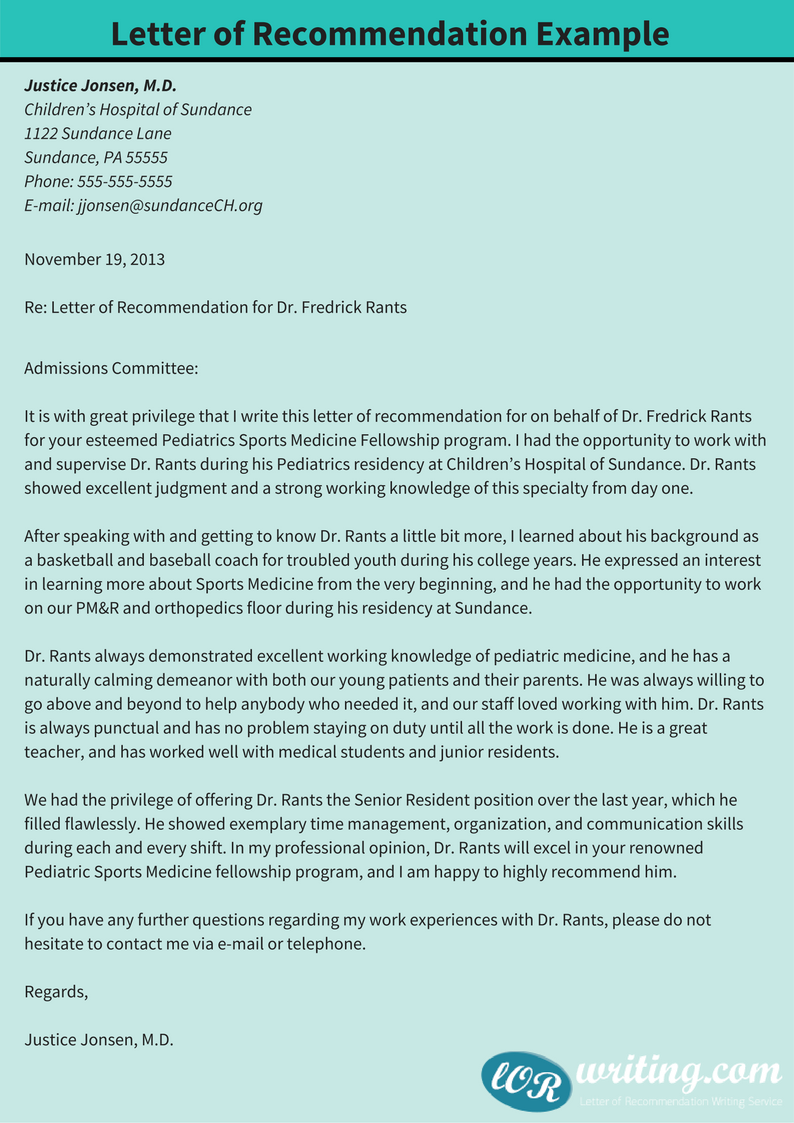 The Highest Quality Letter of Recommendation Examples
Going with a letter of recommendation example that's poorly written or unreliable can not only negate all the time you spend on it, but it can cause you to draw the wrong conclusions and complete the letter incorrectly. Our professional service, however, provides nothing but the highest quality, professionally written letter of recommendation examples that you can always count on to be high quality and to learn the right things from. Our pros can even provide you with hands-on help on personalizing a template and applying the lessons to your own letter, so take advantage and let us help you today!
Find out how the best letter of recommendation examples can help you to achieve the best!